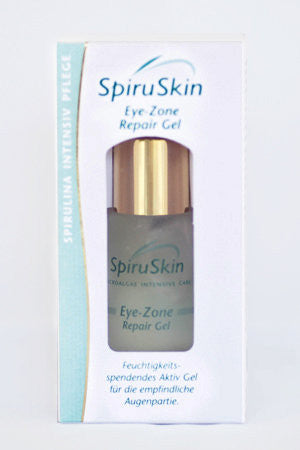 Spiruskin
Spiruskin Eye Zone Repair Gel
£33.46
After cleansing it's important to care for your skin, in particular the eye area.
Eye-Zone Repair Gel
Moisture giving active gel for the sensitive eye area, especially suitable for:
the sensitive eye area of all skin types
slight edemas around the eyes
tired eyes 
contact lenses wearers
The pure, non fatty gel immediately calms the eye area by a special vegetable active complex of spirulina platensis microalge, hamamelis extract and echin-acea.
The tired and stressed eye area already gains back its freshness after a short time of application. Fine liens and facial expression lines will be softened. The moisture balance will be supported effectively. 
Fine lines will be softened; the eye area appears fresh and pure. It has a slight decongestant effect.
Important, natural substances:
Spirulina platensis microalgae with various amino acids, vitamins and vital substances
Echinacea
Hamamelis extract
Irish moos
Lecithin (Liposome creator)
Cleansing
Aqua, Glycerin, Hamamelis Virginiana Water, Triethanolamine, Carbomer, Echinacea Purpurea Extract, Spirulina Platensis Extract, Phenoxyethanol, Carrageenan (Chondrus Crispus), Ethylhexylglycerin, Chlorphenesin, Sodium Hyaluronate, Lecithin