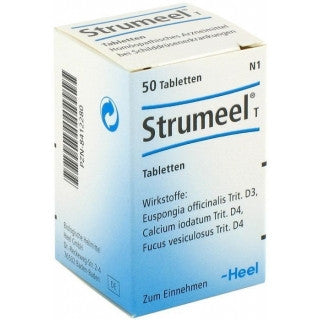 Heel
Strumeel Tablets
£7.95
Indications: Struma parenchymatosa juvenilis; in goitre prophylaxis.
Contraindications: Hypersensitivity to iodine.
Side effects: Aggravation of existing hyperthyroidism.
Interactions with other medication: None known.
Dosage: The dosage must be determined individually.
Strumeel Tablets: In general, 1 tablet to be dissolved under the tongue 3 times daily.
Composition: Tablets: 1 tablet cont.: Spongia D3 150 mg; Calcium jodatum D4 90 mg; Acidum silicicum D4, Fucus vesiculosus D4 30 mg each.
Strumeel is also available in: