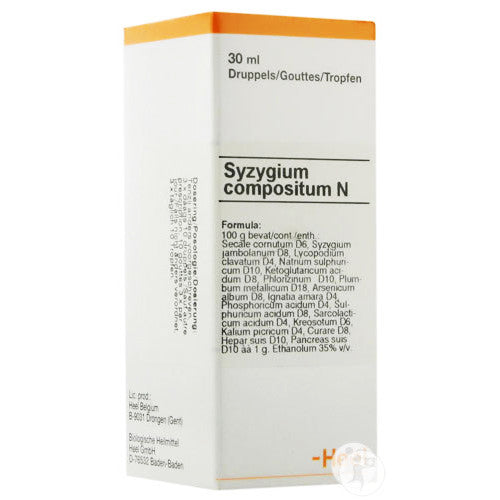 Heel
Syzygium compositum
£13.63
Indications:
Stimulation of the defensive system and of the glandular function in adult-onset diabetes and the disturbances of health involved.
Dosage:
In general, 10 drops 3 times daily.
Composition:
100 g cont.: Secale cornutum D6, Syzygium cumini D8, Lycopodium clavatum D4, Natrium sulfuricum D10, Acidum alpha-ketoglutaricum D8, Natrium choleinicum D6, Phlorizinum D10, Plumbum metallicum D18, Arsenicum album D8, Ignatia D4, Acidum phosphoricum D4, Acidum sulfuricum D8, Acidum sarcolacticum D4, Kreosotum D6, Kalium picrinicum D4, Curare D8, Hepar suis D10, Pankreas suis D10 1g each. Contains 35 vol.-% alcohol.