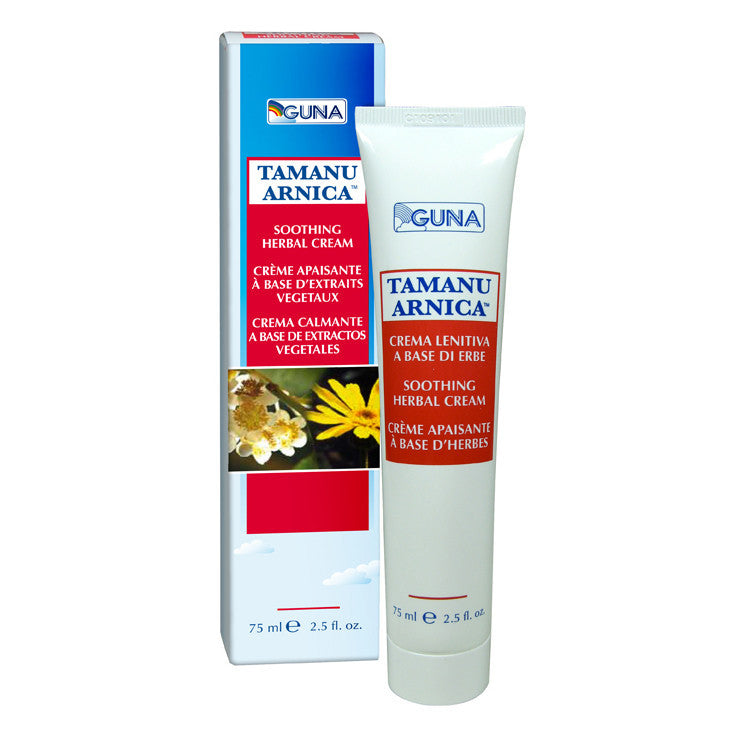 Guna
Guna Tamanu Arnica - Cream
£16.28
Description
Tamanu Arnica is a cream for external and local use to treat inflammation, skin irritation, infections, injuries, and abrasions.
Tamanu Arnica contains high-quality and high-biocompatible ingredients. Among these, there is an extremely sophisticated mix of herbal extracts (from European plants and Polynesian oils) whose properties are well known and have been proven by recent research studies. The nucleus of this product and an actual novelty is represented by Tamanu (Caulophyllum  Inophyllum), a plant of Polyne-sian origin even if it is native to South-East Asian countries. The oil extracted from this plant is rich in active ingredients of lipid origin (glycolipids, phos-pholipids): calophyllic acid and calophyllolide are the most important among these. They have antibiotic-like and non-steroid anti-inflammatory properties.
Key words:
Tamanu arnica, herbal soothing and moisturizing cream, healing action
Uses
Local treatment of inflammation, irritation, infections, injuries, skin abrasions, for instance: burns and scalds, insect bites and stings, sun rashes, diaper rashes, chapped or dry skin, acne, etc.
Directions
Apply gently to the affected areas several times daily and according to individual needs. Tamanu Arnica is suitable for all kinds of skin.
Ingredients
Tamanu, Arnica Montana, Calendula Officinalis, Ninfea, Gardenia Tahitensis, Bisabollol, Tocopheryl Acetate, Biocompatible emulsifiers              
Packaging
75 ml tube with tamper-evident seal.