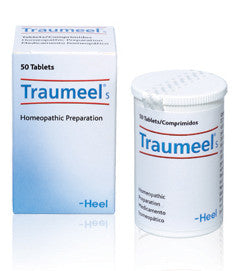 Traumeel
Traumeel Tablets (Wholesale)
£8,500.00 £9,800.00
Use Traumeel Tablets for:-
- Abscesses

- After any trauma or shock

- Arthritis bursitis

- Concussion

- Dermatitis

- Dislocations

- Herpes blisters

- Inflamed swollen joints

- ligament injuries

- Muscle strains and cramps

- Over-use injuries

- Skin Irritations

- Strains

- Sunburn

- Swelling and bruising of soft tissues

- Tendonitis
Dosage:
For Animals: 
Puppies -  1 tablet 3 times a day.
Dogs  – 1-3 tablets 3 times a day.
Kittens – ½ tablet 3 times a day,
Cats -  1 tablet 3 times a day.
Foals – 4 – 5 tablets 3 times a day
Horses – 5 – 6 tablets 3 times a day.
For Humans (adults & children):
Adults and children 6 years plus – 1 tablet dissolved completely in the mouth 3 times daily or as directed by a physician.
Infants and children up to 6 years – 1/2 the adult dosage.
Acute Disorders – In acute cases the tablets can be taken every 15 minutes until symptoms subside. Maximum 12 tablets a day.
Tablets can be mixed with a little water without losing effectiveness.
Indications: Injuries such as sprains, dislocations, contusions, effusions of blood and effusions into a joint, fractures; post-operative and post- traumatic oedema and swelling of the soft tissues; inflammatory processes and degenerative processes associated with inflammation on the various organs and tissues, including, in particular, on the support and mobility apparatus (tendovaginitis, styloiditis, epicondylitis, bursitis, scapulohumeral periarthritis, ect.); arthrosis of the hip, knee and small joints; commotio cerebri acuta.
Contraindications: 
Hypersensitivity to botanicals of the Compositae family.
Side effects: 
In isolated cases, hypersensitivity reactions may occur. In rare cases, increased flow of saliva may occur after taking this medication. If this happens, the therapist should be consulted.
Composition: 
T
ablets: 1 tablet cont.: Arnica montana D2, Calendula officinalis D2, Hamamelis virginiana D2, Achillea millefolium D3 15 mg each; Atropa belladonna D4 75 mg; Aconitum napellus D3, Mercurius solubilis Hahnemanni D8, Hepar sulfuris D8 30 mg each; Chamomilla recutita D3, Symphytum officinale D8 24 mg each; Bellis perennis D2, Echinacea angustifolia D2, Echinacea purpurea D2 6 mg each; Hypericum perforatum D2 3 mg.