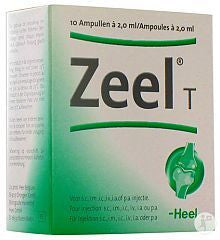 Arthritic Remedies
Zeel T Ampoules
£41.98
PLEASE NOTE: These Ampoules are the 2.2ml size for Humans. For the 5ml Ampoules, click here. 
Indications: Arthrosis (in particular gonarthrosis); polyarthrosis, spondylarthrosis, scapulohumeral periarthritis, arthritis, and joint stiffness.
For degenerative arthritic conditions. A homoeopathic combination formulation of botanical, zoological, biochemical and mineral substances.
No adverse renal, hepatic, cardio-vascular, gastrointestinal, or CNS side effects.
Over 30 years of worldwide therapeutic use.
Zeel T Ampoules - The alternative to chronic NSAID administration like Diclofenac or Cox II inhibitors.
Dosage:  In general twice weekly 1 ampoule, 1-3 times weekly.
Composition:
2.0 ml (= 2.0 g) cont.: Cartilago suis D6 2 mg, Funiculus um- bilicalis suis D6 2 mg, Embryo suis D6 2 mg, Placenta suis D6 2 mg, Solanum dulca- mara D3 10 mg, Symphytum officinale D6 10 mg, Nadidum D8 2 mg, Coenzymum A D8 2 mg, Sanguinaria canadensis D4 3 mg, Natrium diethyloxalaceticum D8 2 mg, Acidum alpha-liponicum D8 2 mg, Toxicodendron quercifolium D2 10 mg, Arnica montana D4 200 mg, Sulfur D6 3.6 mg.