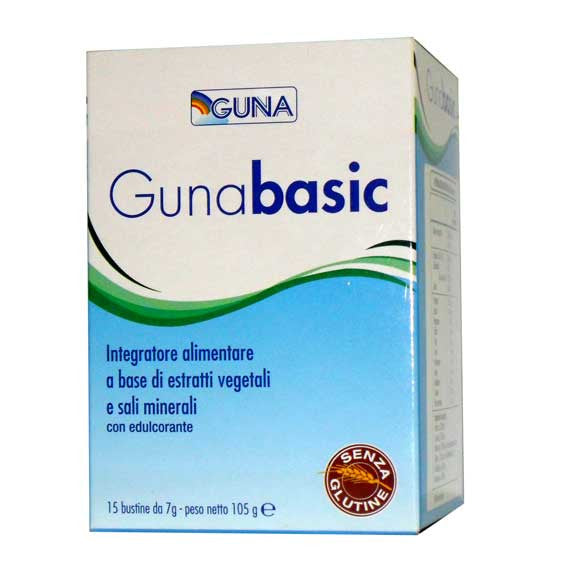 Guna
Guna Basic - Sachets
£24.92
Key Words: General Health and Wellbeing
Directions and Uses:
The RDA is 1 sachet to be dissolved into half a glass of water, better in the evening before going to sleep or an empty stomach, for at least 15 days. 
To help digestion take it after meals.
Fields of Application:
Acid-Base re-balance; alkalization of the extracellular matrix; body de-acidification; mineral re-balance; drainage and detoxification; chronic inflammation conditions; digestive disorders; nervous excitement. 
Dosage: 
One sachet daily is recommended. Dissolve the content of one sachet in half a glass of water, preferably in the evening at bedtime and between meals.
For more detailed product information, please take a look at this dedicated PDF document on Guna Basic: Click Here.
Ingredients (Gluten Free):
Maltodextrins, Magnesium citrate, Potassium citrate, Calcium carbonate, Nettle (Urtica dioica) root dry extract, Carrot (Daucus carota) root dry extract stan- dardized to 1,8% Beta-carotene, Lemon balm (Melissa officinalis) leaf dry extract standardized to 2% rosmari- nic acid, Small-leaved Linden (Tilia cordata) flower dry extract standardized to 1% bioflavonoids, Fennel (Foe- niculum vulgare) seeds dry extract standardized to 1% essential oil, Dandelion (Taraxacum officinale) root dry extract, Magnesium oxide, Zinc citrate, Iron pho- sphate, sweetener: Sucralose; Manganese carbonate, Bamboo fiber (Bambusae sspp.) standardized to 90% Silicon, Selenium methionine, Copper citrate, Ammo- nium molybdate.