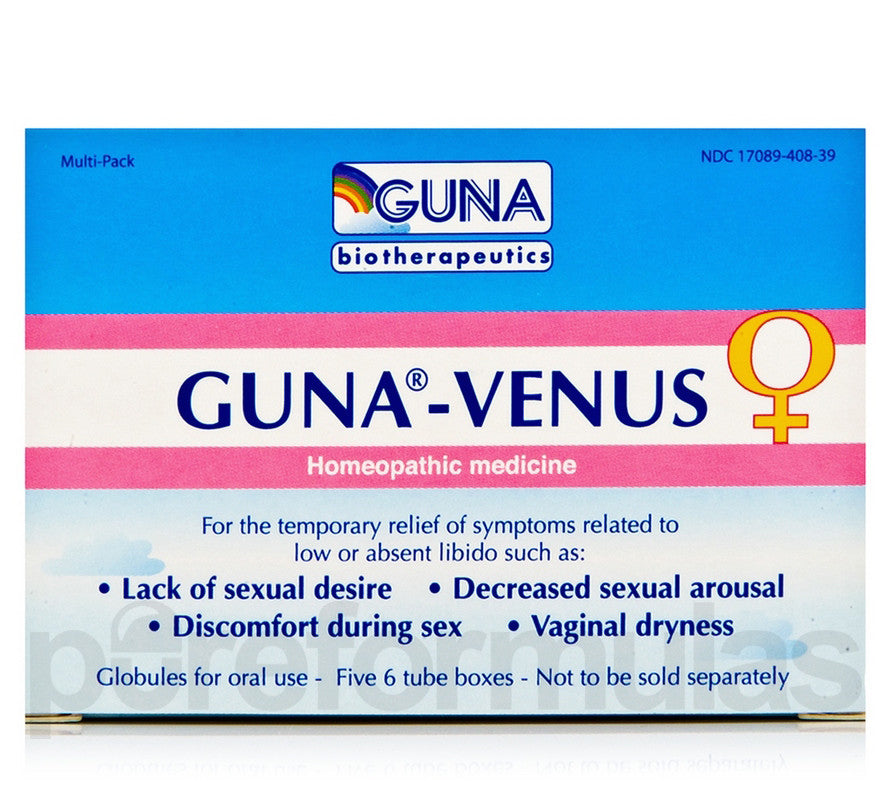 Guna
Guna Venus - Granules
£84.91
Guna Venus for Women:
Directions: Adults 18 years and older: 1 dose a day (preferably in the evening) on an empty stomach, for 2 months.
Pour the entire content of the tube under the tongue and let dissolve.
Patients below the age of 18 years:
Not reccommended
Uses: For temporary relief of symptoms related to low or absent libido such as:
• Lack of sexual desire
• Decreased sexual arousal
• Discomfort during sex
• Vaginal dryness
Package size: The package contains 30 dose-tubes infive 6 tube boxes.
Store at 20°-25° C (68°-77°F)
Ingredients: ACTH, Agnus castus Aletris farinosa, a-Lipoicum acidum Cobalamin (vit. 812) Cuprum metallicum Cyclamen europeum Damiana Dehydroepiandrosterone Dopamine, Folic acid, Follicle stimulating hormone Gossypium herbaceum Hydroquinone, Hypophysis Hypothalamus lnterleukin-2 Luteinizing hormone, Luteinizing hormone-releasing hormone Lycopodium clavatum, Oophorinum Oxytocin Sepia Serotonin Spleen, Succinicum acidum Zincum metallicum
Inactive Ingredient: Sucrose