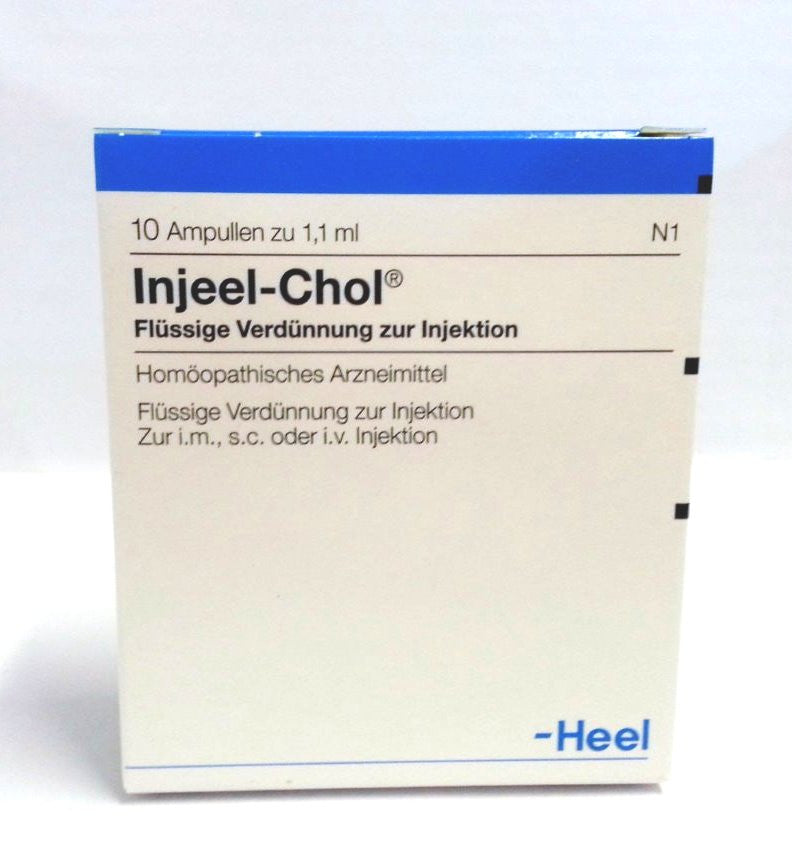 Heel
Injeel Chol Ampoules
£16.64
Indications: Cholangitis, cholecystitis, cholelithiasis; dysfunction of the liver, chronic hepatitis. 
Dosage: In acute disorders daily, otherwise 3-1 times weekly 1 ampoule
Composition: Solution: 1.1 ml cont.: Chelidonium majus D10, Chelidonium majus D30, Chelidonium majus D200, Atropa belladonna D10, Atropa belladonna D30, Atropa belladonna D200, Atropa belladonna D1000 2.2 μl each; Carduus marianus D10, Carduus marianus D30, Carduus marianus D200, China D10, China D30, China D200, Calcium carbonicum Hahnemanni D10, Calcium carbonicum Hahnemanni D30, Calcium carbonicum Hahnemanni D200, Lycopodium clavatum D10, Lycopodium clavatum D30, Lycopodium clavatum D200, Lycopodium clavatum D1000, Taraxacum officinale D10, Taraxacum officinale D30, Taraxacum officinale D200, Veratrum album D10, Veratrum album D30, Veratrum album D200 1.1 μl each.