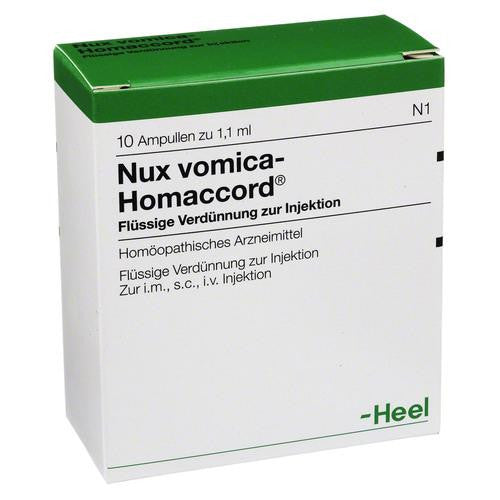 Heel
Nux-Vomica Homaccord - Ampoules
£16.64
Indications: Functional disorders in the gastro-intestinal and hepatic region; meteorism; disorders after consumption of alcohol, coffee or nicotine. Wind. Flatulence. Trapped wind.  
Dosage:  Solution: In acute disorders daily, otherwise 1-3 times weekly 1 ampoule
Compositum: Solution: 1.1 ml cont.: Nux vomica D4, Nux vomica D10, Nux vomica D15, Nux vomica D30, Nux vomica D200, Nux vomica D1000, Bryonia cretica D4, Bryonia cretica D6, Bryonia cretica D10, Bryonia cretica D15, Bryonia cretica D30, Bryonia cretica D200, Bryonia cretica D1000 2.2 μl each; Lycopodium clavatum D5, Lycopodium clavatum D10, Lycopodium clavatum D30, Lycopodium clavatum D200, Lycopodium clavatum D1000, Citrullus colocynthis D5, Citrullus colocynthis D10, Citrullus colocynthis D30, Citrullus colocynthis D200 3.3 μl each.