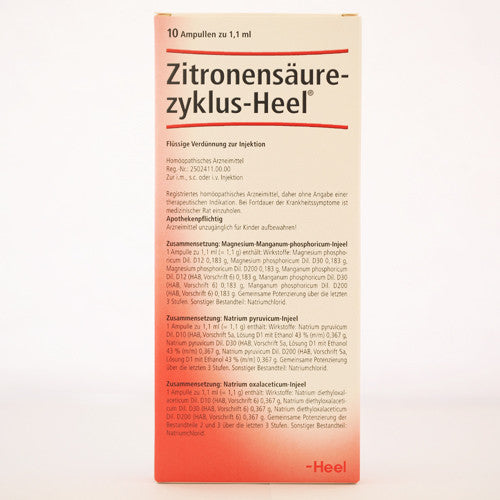 Heel
Citric Acid Cycle Set (Zitronensaurezllaus) Ampoules
£42.90
Fields of Application
For the improvement of the enzyme functions which is essential for health.

All diseases classified as cellular phases and which are characterized by defective enzymatic control, blockages and/or defective cellular oxidation, e.g.:
Paresis, neuralgia, toxic neuritis, vegetative dystonia, migraine

Dermatosis, neurodermitis, pruritus (including pruritus vulvae), psoriasis, vitiligo, p

emphigus, sclerosis

Bronchial asthma, respiratory diseases.


Arthritis, degenerative diseases, chronic diseases.

Gastric problems, duodenal ulcer, cirrhosis of the liver and hepatic disorders, pancreopathy.

Nephropathy, e.g., nephrosis and chronic nephritis

Myocardial impairment, angina pectoris, arteriosclerosis, cerebral sclerosis

Dysfunction and dysregulation of endocrine glands, e.g., diabetes mellitus, dysthyroidism

Precancerous and dedifferentiation phases: neoplasm phases) within 

any tissue whatsoever

During and ensuing X-ray and radioactive exposure (several enzymes,

are sensitive to radiation)
Thrombocytopenia, leucopenia
Dosage
There are 2 ways of taking the ampoules:
1. Orally -Together all at the Same Time

The 10 ampoules should be placed in a small infusion of 100cc of water, which should be sipped over 30 minutes.
2. Over a 2 Week Period - Subcutaneous s or Orally in Water
Week 1 - 2 treatments:-

1:
2:
Week 2 - 2 treatments:-

3:
4:
N.B. Drink plenty of water when taking this treatment.